Corrie faves Jason and Carla holiday together
---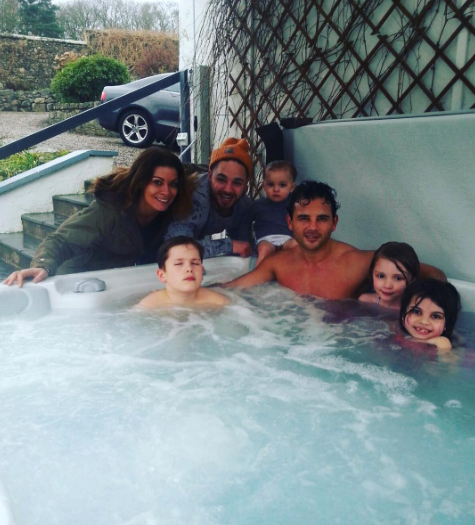 This picture of Coronation Street favourites Jason Grimshaw and Carla Connor could be a controversial scene from a future episode, but this is REAL life.
Actor Ryan Thomas, 31, and his family joined his co-star Alison King, 43, on a countryside retreat. The group's hot tub image, which was posted by Ryan on Instagram, sparked rumours that the Corrie characters are a couple off-camera.
And the suspicious holiday snap was published on the social media site after both actors announced their upcoming departures from the hit ITV programme.
But the co-stars were quick to deny that their weekend away was any more than friendship.
Ryan Thomas, who has played the Corrie character Jason Grimshaw for 16 years, announced that he planned to leave the hit ITV soap to pursue his acting career in Hollywood last year.
Meanwhile, co-star Alison – who is 12 years older than Ryan – is to quit playing factory owner Carla Connor after a decade.
Of her imminent departure from the Street, Alison said: "I feel calm, a bit sick and excited. For me, it's about saying goodbye to some amazing people who I love working with, both cast and crew. I am ready to say farewell to Carla, but I will miss everybody here."
During her time on the Street, Carla Connor has been involved in some big storylines, so has builder Jason Grimshaw including marrying Sarah-Louise Platt, who is played by his former real-life partner Tina O'Brien – the mother of his a seven-year-old daughter Scarlett.
According to Corrie producers, Jason will be "at the heart of a massive" storyline, which has sparked rumours of his departure being linked to the death of his on-screen dad Tony.
Speaking of his departure, in 2015, Ryan said: 'It's been a great privilege to be in Coronation Street – the cast and crew are among the best in the business. To be a part of it so long has been amazing."
Father-of-one Ryan dreams of an acting career in Hollywood and plans to head Stateside and follow in the footsteps of other Corrie actors who have made a transition from small screen to big screen, including Matthew Marsden who played mechanic Chris Collins in the soap and went on to star in Black Hawk Down.