Ellie Goulding arrives in Scotland this week
---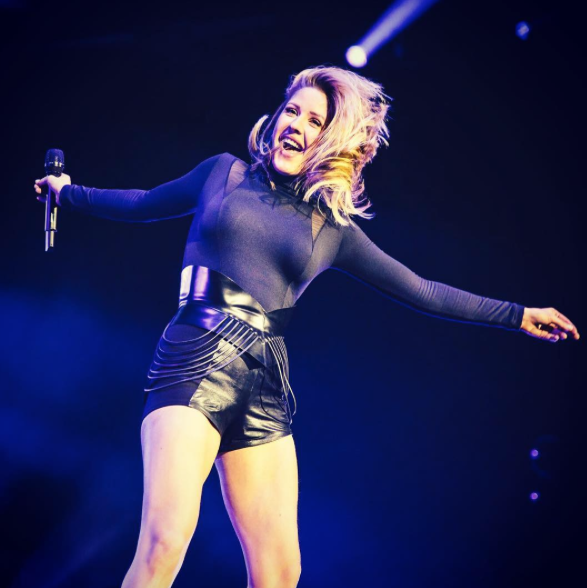 We've all got Ellie Goulding on our mind this week.
That's because the pop princess arrives in Scotland on Friday as part of her Delirium World Tour. Her gig at the SSE Hydro in Glasgow is Ellie's only Scottish date on the arena tour. Last week, the blonde 29-year-old arrived back in the UK to perform to her British fans just after splitting from long-term boyfriend Dougie Poynter. The on-off pair had been together for two years.
It's been a week of ups and downs for Ellie and her fans, not only did the I Need Your Love singer break up with the McFly bassist, she also announced to her 6.1million followers on Twitter she was taking a break from music, but reassured fans that it wasn't forever:
"I am not quitting music, I've come too far for that! Just having a break. It's been seven years since I had time off…. Love you all."
She added that she needed time off "for my own head".
However, we are sure Ellie will be on top form and put her personal life and recent heartbreak to one side as she takes to the Hydro stage.
If you have a ticket to Friday's show, you can expect to be entertained by her energetic dance routines and distinctive vocals as she performs tracks from her Delirium album, and other fan favourites. The fashionable songstress will show off her trim figure in skimpy black leather hot pants, which she rocks with Doc Marten boots, while belting out hits including Love Me Like You Do and On My Mind.
Ellie will be supported by London's soul-pop sensation John Newman and the Los Angeles-based indie-pop trio LANY, who are signed to the same record label (Polydor) as Goulding. LANY's recent single, Where The Hell Are My Friends is out now.
After the UK leg of her tour, Ellie is heading to the US for three months, and plans to take the month of August off. Who knows what's next for the singer? Anything Could Happen!
Follow the musicians on Twitter to find out what they get up to when they come to Scotland this week:
Ellie Goulding – @EllieGoulding
John Newman – @JohnNewmanMusic
LANY – @ThisIsLANY