Rob James-Collier reveals all about the Downton Abbey final season
---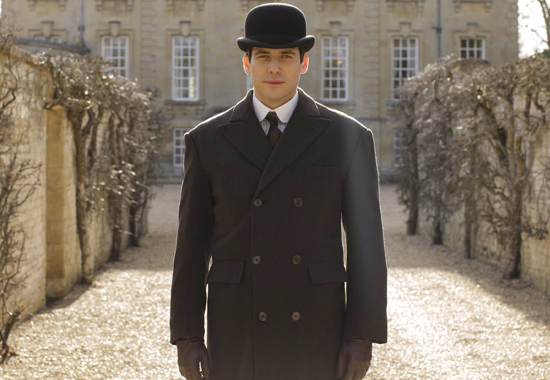 As Downton Abbey approaches it's final episode, actor Rob James-Collier talks about the trials and tribulations faced by his long suffering character, Thomas Barrow.
Would you say there are any similarities between you and your character?
I don't think I am like him at all, I look like him and I'm the same height, that's where it ends.
What is this series all about for Thomas?
This series is about Thomas finding out who he is for good or bad, unlocking the real him which you may or may not like.
SEE:  The 10 etiquette rules to remember fondly from Downton Abbey 
What was your reaction when you found out what your storyline was going to be?
My reaction was, 'Oh nice one, I've got some scenes that require acting.' It's a bit of a challenge. When there is some emotional stuff, it's great as an actor to play that.
Your character very much varies in popularity with the viewers…
Julian (Fellowes, Downton creator) said to me after the read through, "I hope you're ready to play the tragic hero." But he does say that at the end of most sentences. So we see Thomas, he's never truly been happy with himself and Downton Abbey and that's why he's so conflicted and nasty, he's not happy with himself. He's never resolved that and that's what it's all about this year – can he resolve that? And if he can't, what will happen to him?
Does Thomas have a happy ever after?
There isn't unfortunately, he's too involved and preoccupied with himself. He was nearly exposed a few times, now it's once bitten, twice shy. You are going to see Thomas right at the brink, lots of pathos there and hopefully it'll be quite powerful stuff, or as powerful as Downton can get. This series, he deals with that tragic journey. He's been worn down by years and years of society saying you can't be who you are. He's at the end of his tether.
How do you act those difficult scenes?
You normally try to use a past experience, but because we're worlds apart, I've spoken to gay friends about how would you feel, and then I tried to put it in Edwardian context, but I had to substitute and make up my own story in the end. If I can play those scenes – they are challenging to play – then the audience has to warm to it. It gives you the key to who he's been for six years, people will say, 'I get it now, that's why he's nasty'. And you'd hope, if we ever do one of these again, which we probably won't, it'll be the definitive answer to explain why he is who he is. It'll be unlocked at the end of this series for good or bad.
Is it hard to shake off those emotional scenes?
Not hard to shake off, but getting into the zone before it, that's the hard bit. Everyone is quiet but it's a busy set and you know in any second it'll be on you to deliver that level of emotion in that scene and there's a pressure that comes with that, that's where the hard work is, trying not to peak too soon. Afterwards you just switch off and leave it. When I was younger, I'd beat myself up and say, "couldn't I have done this or that?" now I just do my best and leave it. It's 'See you later, let's go home, have some tea and a biscuit and watch the Great British Bake Off'.
What has been your favourite scenes?
Thomas having his hand shot off was quite a powerful one, then when he trashed the shed in series two. They are different types of scenes, one physical, one more emotional.
Do you ever sneak family and friends into cameo roles?
A lot of the crew have been there for a long time, so they are in some scenes.
What has been your Downton highlight?
Dancing with Dame Maggie Smith. She's an icon, so to take her out to waltz and stand on her foot (not on purpose) was an epic moment. I would love to go out with Maggie, but I never have, we hang around between takes though. She's Maggie, she's not Dame Maggie. She always says, and I love this about her, she started in acting as Maggie and she'll end it as Maggie. Sometimes we play bananagrams, tell anecdotes, but she raises the anecdote bar way up. The lady has anecdotes about Montgomery Cliff, proper stars. I can't compete with that!
Would you like to see a Downton Abbey movie?
I'd be involved in a Downton movie.
Would you like to see Mrs O'Brien make a come back?
She'd be great, but I'm sure she's gone to New York and opened the first gay bar!
Downton Abbey Christmas Special is on ITV on Christmas Day at 8.45pm.