Turn your home into a cosy winter haven
---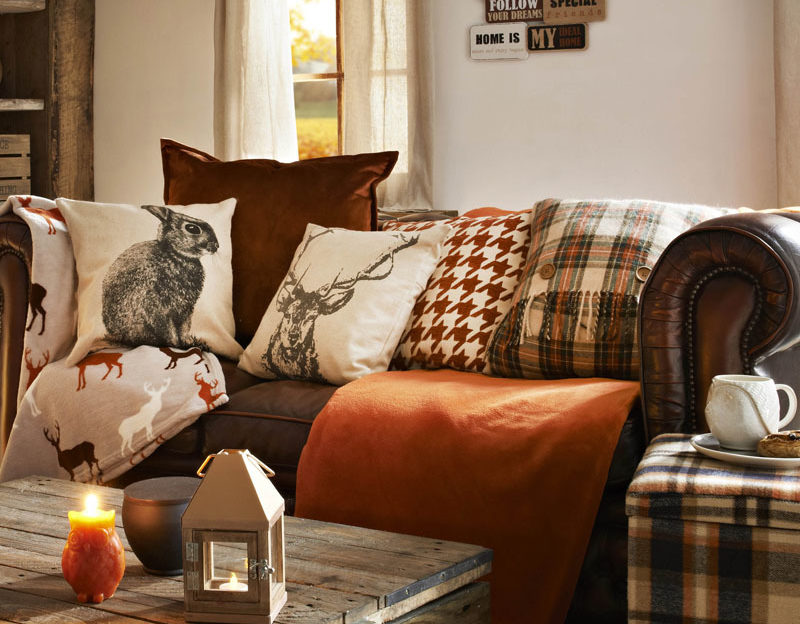 Talking texture
Take your house from summer cool to winter warm with these simple tips.
Not only does adding texture to a room give it depth it's one of the easiest ways to create a cosy comforting retreat. Pile up snuggly throws and cushions in cuddly materials like faux fur, mohair, chunky knits and cashmere. There's nothing quite like cuddling up on the sofa with a big cosy throw on a freezing winters day with a big mug of tea (or glass of wine) to watch a film!

As the temperature drops most people find their heating bills dramatically increase. Keep a big heavy quilt at the end of your bed to pull over your duvet on those chilly Scottish nights.

You can instantly create a cosy feel in your home with luxe-looking accessories. Group together candles and lanterns to cast a warm light over the room.

These warming materials will keep you cosy as the winter weather comes in. Don't be afraid to mix textures – the more the better! Just try and stick to similar tones.

Save money on your electricity by switching off your lights and lighting candles. Create a source of warming light by grouping candles together, perfect for relaxing with a loved one.

By placing your lights at different levels you will create a cosy and welcoming effect. Switch your light bulbs for ones with a lower colour value, which will produce a 'warm' light as opposed to a cold blue/white one.

How many times have you had to talk yourself into getting out of bed and stepping on cold wooden floors or tiles? There's nothing worse! Heated flooring would solve the issue but it's also rather costly. Another option is to invest in some floor runners. Relatively inexpensive, these don't need to be a permanent addition - you can store these away at the end of the summer.

Okay, so not the most budget friendly option and it won't suit every home, but the heat from a wood burning stove is magical.

Add bright colours to brighten up a dreary room this winter, you don't need to spend a fortune, just mix eclectic pieces to brighten up an area!

The ultimate luxury, a towel warmer is our winter must-have. No more hopping out the shower with chattering teeth trying to frantically dry yourself!