Rita Ora: "I flirt with people to make them uncomfortable"
---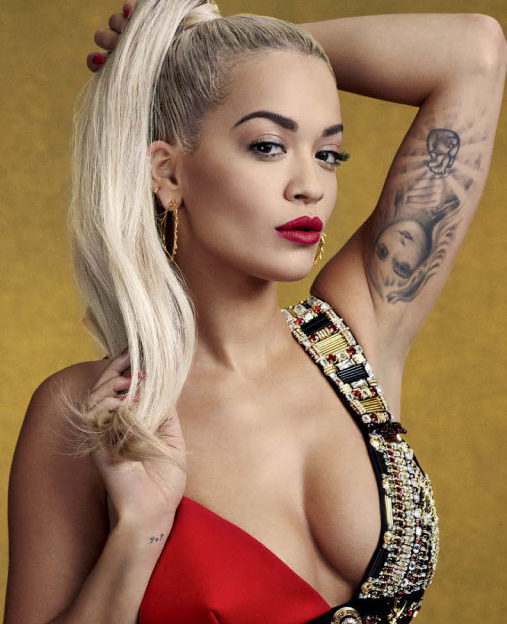 She's set to spice things up, but can Rita Ora offer more than the 'sex factor' this year?
You're new to The X Factor panel. How did you joining the show come about?
There's always been the hearsay of whether or not I'll do it for the past three or four years in the papers. But it was all about timing for me. X Factor is a big deal to me, I wanted to make sure I was ready for it. There was a lot to do with my schedule, my music career and all that. I wanted to make sure the focus is fair on each job that I take on. It was coming closer to filming and Simon wanted to meet, the only time he could meet was at midnight. I was coming back from a show and he was filming Britain's Got Talent. We had some green tea and spoke about it. I'm a fan of it, I always have been. Being a guest judge in 2012 was so much fun and I missed that.
Read: Olly Murs reveals 6 fun facts
Did you have any reservations about doing the show?
No, I just had some queries. I wanted to get the low down before I got into it. My main concern was to make sure I could do a good job as a judge, to make sure I could really help the contestants – that's all I care about.
Did it seal the deal when you found out Nick was joining the panel?
It was a definite bump up in my decision because he's one of my best friends, so for me, having a best friend on the panel next to me definitely made me think. I had a few chats with Grimmy about it, explained to him what I was worried or excited about and there were more pros than cons.
Do you think being on the show together will affect your friendship?
The one thing Grimmy and I said to each other is that we didn't want to change how we are normally with each other just because we're on TV. I was like, 'OK, great', because I didn't want it to get weird. And it didn't, it actually got even better. We balance each other out.
 Being the two females on the panel, will you and Cheryl come to blows?
I actually think for the first time in a long time, that's not going to happen. We have banter, Cheryl's a girl's girl, she was in a girl band and she knows how to act around women and the sensitiveness and all that. I'm more of a guy, I'm like a tomboy. I don't get emotional easily. I don't get offended easily; it takes a lot for me to be really hurt by something. I was grateful that there was another female on the panel, it made me feel more comfortable. There will definitely be style wars though, right? I think we clearly have very different tastes in clothes. I don't know if it's obvious, but I'm a bit crazier than most people when it comes to my dress sense. So I don't think we will have to worry about that at all.
Will people get to see more of your personality on the show?
I'm really excited because I think people change their perspective of a person when you get to know them. After every interview I do people are like, 'I didn't expect you to be like that'. Yes it's a bit daunting because you are putting your whole life on TV every Saturday night, but then it's like, if you don't fake it, you'll be alright. I'm just going to be myself and hopefully that's a good thing.
A lot of people say you bring the 'sex factor' to the show. What do you think of that?
I'll take that! The thing is, even when I am at home, I really play on the flirty thing. I do it as a joke and I think some people think it's serious. I just do it because it makes them feel uncomfortable. For me, it's like if you can handle me flirting then you can handle being on The X Factor. I'm very intense and I am very forward, it's very 'get to the point' with me. That's a minor thing in this industry, trust me. So I just do it for some fun, it takes the pressure off.
The guys are certainly flirting with you…
Are they? I think it's because I instigate it! I don't think they go into it thinking, 'I'm going to flirt with Rita'. Once I start instigating it they get more comfortable. Will you be quite fierce when it comes to protecting your acts on the show? I think the maternal instincts will kick in for me and Cheryl, definitely. Cheryl's told me that you do start to get really attached to the contestants as you start to know more about them and their lives, so I'm preparing myself.