Meet the women in business with friends and family
---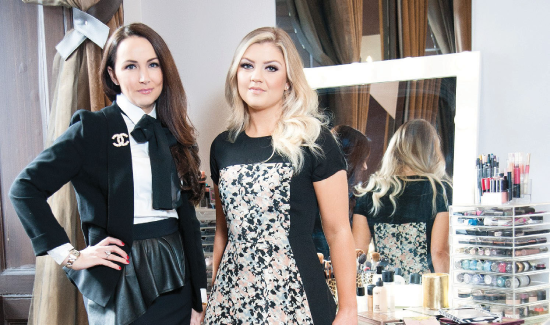 Best Friends Asteria Bridal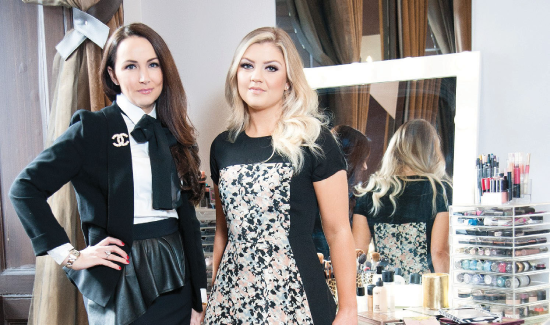 You often hear the old adage "Never mix business with friends and family" but what's the reality really like? We meet four Scottish women who are doing just that.
"I work with my best friend"
Jennifer Peffer is one half of Asteria Bridal, which is based in Glasgow.
"Before I went into business with Pamela, I worked in the fashion industry as a buyer for Cruise. I always knew I wanted to do something creative and thought fashion was going to be everything I wanted, but the reality was a little different.
I met Pamela through a mutual friend and we completely gelled. When you're working on a wedding, it is obviously a really special day for the bride and her family, but it can sometimes be a little intimidating as an outsider.
Having your best friend there instantly makes you feel better. We work so well together because we're always on the same wavelength, it doesn't leave much space for disagreement.
Honesty is the best policy when you work with your best friend because things will build up if you try to keep secrets from her."
Pamela Docherty works as the hair stylist in their bridal partnership.
"I have always worked in the hair industry, but after I had my daughter I realised I wanted a change and I didn't really want to work for someone else anymore.
Our friendship has gone from strength to strength since we decided to work together. People don't believe us when we tell them how well we get along, we genuinely never fall out.
We decided very early on that if there is any difference in opinion, we would always go with whoever felt the strongest and that's served us really well.
If you're going to work with your best friend, you have to trust them. I care about Jennifer's career as much as my own – you need to be in it together. Jennifer and I are different in so many ways, but I think that's what makes us compatible. It's like we're two halves of the one person."
---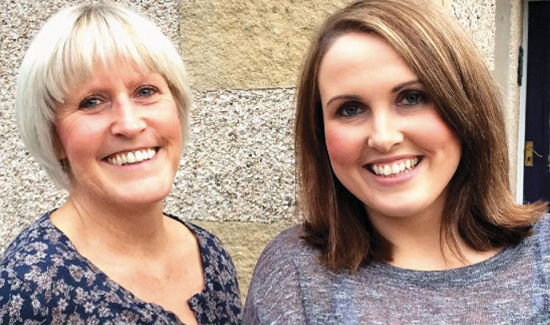 "I work with my daughter"
 Sandra Simpson left her job with the NHS to start up her own company, Perthshire Holiday Let Services
"Before I decided to go into business with my daughter, I worked as a secretary for two surgeons for the NHS. My boss was leaving his job to move to Singapore and asked me if I knew of any companies that could take care of it for him, so that was the idea behind our business.
The best thing about working with my daughter is that I've got that complete reliability and loyalty.
If you're going to go into business with a family member, you have to treat them like a colleague rather than a relative. Respect is absolutely crucial for your partnership to be successful."
Rhoda Bartlett now balances her time between her reception job with the NHS and the holiday home business with her mum.
 "Before I started worked with my mum, I was working with the NHS as a reception administrator, which I still do part time.
I always wondered what the reality of working with my mum would be – I didn't think I would actually enjoy it but it's been better than I could have imagined.
If you're going to work with your mum then you have to listen to her. Communication and of course, plenty of red wine helps!
It's very rare that you can work with your mum and remain close – rare but also very special. I hope to enjoy it for a lot longer."
---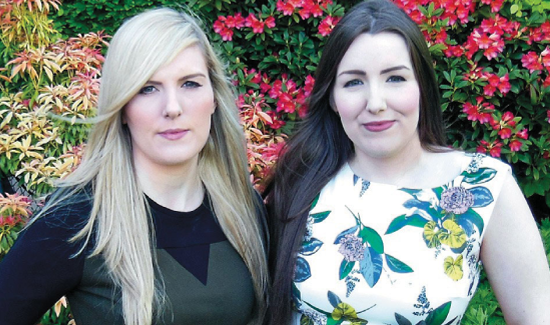 "I work with my sister"
Stephanie manages the marketing, admin and accounts of her fashion brand,  Heather Margaret Grace.
"I studied international fashion marketing at Herriot-Watt University and have always had a keen interest in the fashion industry. The job market is quite poor– you find that most, if not all, of the good jobs are based in London.
I decided to create a job for myself and, given my sister's background in textiles, it just made sense for us to combine and create a brand.
Our family see our partnership as very logical because we're so close and we understand each other. We actually have very similar mind-sets; we get inspiration from the same things. Having my sister in this with me makes the experience a little more relaxing; I don't think I could do it without her."
Leanne Johnston designs clothing and prints for the fashion brand she runs with her sister, Stephanie.
"The partnership with my sister was very natural. I was studying textiles at Edinburgh College and one of my lecturers actually suggested that I go into business with Stephanie. She told me that it was a great idea to work with a family member that has such similar interests.
We are sisters so we can sometimes have our moments, but we never truly fall out. I see Stephanie almost every day; we even spend time together outside of work, which may be surprising to some people. The best advice I could offer someone who wants to work with their sister is not to take things to heart.
Take certain things on the chin and really listen to each other because the other one often has a great idea or a valid point to make."
---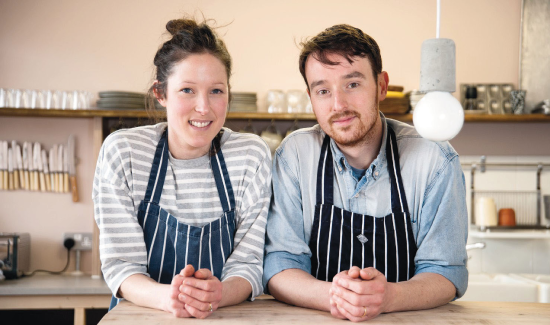 "I work with my husband"
 Anna Luntley studied in Edinburgh before she opened Bakery 47  in Glasgow's Southside with her husband.
"Sam and I always wanted to collaborate and bring our different artistic backgrounds together, but it usually ended up that we were helping each other in our individual roles. Bakery 47 actually started as an email service. We would bake at home in our kitchen and people in Glasgow could email us to order their bakes, then we would deliver them.
Now that we have a shop, working together is a lot easier. We make an effort to have a date night – whether it's dinner or going to a gig together, just a little bit of time that's focused on us. Working with my husband is great as it means I don't have to tiptoe around anyone, I have complete space for honesty.
Most married couples see their work as a way of living separate lives, but ours are completely intertwined. I wouldn't change it for the world."
Sam Luntley gained his bakery experience in London, before going into business with his wife.
 "Working together has completely strengthened our relationship. There's no better way of understanding my wife than knowing the ins and outs of what she does for a living.
Our partnership works well because, although we're completely in it together we have different roles as well. The best part about working with my wife is that we're best friends and we're on the same wavelength all the time, which makes your working day a lot easier.
We avoid arguments in work by taking things day by day. We do fall out from time to time because we're in a normal relationship at the end of the day, but we'll just talk it out or have a little breathing space. I don't see this as work anymore, which is really lucky. You don't get many jobs like that."