Celebrity style steals: wardrobe essentials
---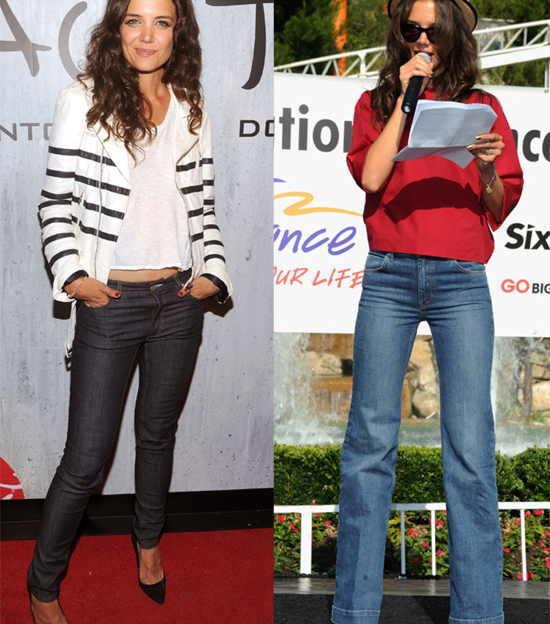 The Perfect Fit Jeans – Katie Holmes
Every woman should own at least these 8 style staples. Take inspiration from these celebrity favourites and build up your own collection of wardrobe essentials.
Jean shopping is often a depressing experience; it's so hard to find a shape that suits! So take inspiration from Katie Holmes and experiment with both fit and wash.

Oprah knows the power of a crisp white shirt. One that fits perfectly (with no puckering or stretching at the buttons) is one of those items that you will pull out of your wardrobe time and time again. Wear with jeans, a skirt, to work, to the party, open over a bikini on holiday... it's such a multi-functional staple.

A tan bag is such a classic, it'll go with everything. While countless celebrities complete their day look with a leather handbag, we love how Rose Byrne has opted for a cross body style.

Nothing completes Kate Middleton's classic style more than the belted coat. It's timeless and dresses up any outfit you have. The belt means you can really cinch in your waist and a camel colour never dates!

Whether she's on the street or at a red carpet event, Kate Moss never seems to be without simple heels that will carry her from day to night.

Pointed courts are as chic as they are smart. They're perfect for the office but also look super sexy when worn at night.

Heidi Klum understands that a statement necklace can transform a 'blah' outfit into a 'wow' one if her red carpet looks are anything to go by. The good news is there are tons of reasonable options on the high street.

Everyone knows an LBD is a style staple. American Horror Story actress Angela Bassett seems to have a vast collection but the look is so versatile. Because the dress is black you can wear it over and over without anyone recognising it as the same one.

Rachel Bilson definitely loves her blazers and for good reason. Sharp blazers have the capacity to make everything they're worn over look more stylish and sleek.