10 tips to look slimmer by tonight
---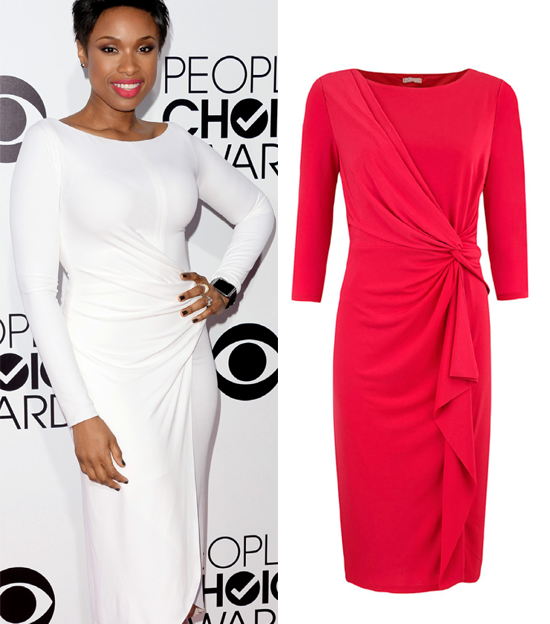 Get knotty!
We're here to help you look slimmer by tonight – without having to alter your diet. From a simple change of accessory to knowing what item of clothing can make a real difference to your shape, these ten tips will give you the illusion of slim fast!
Cinch in your waist with a wrap dress. The knot detail will completely disguise an untoned tummy! Result!

There is all manner of control underwear on the market. And they should be an essential item in every woman's wardrobe, regardless of age or size. Go on, cheat your way to a sleek and slinky silhouette!

Avoid big clumpy jackets – they will swamp your frame and instantly make you look as though you are a lot heavier than you actually are. If you want to appear slimmer you need to wear a structured jacket that nips you in at the right places.

When it comes to bags if you carry a tiny clutch it will make you look larger. Whereas if you opt for an oversized, structured bag it will instantly make you look teeny tiny!

A wide belt is the best friend of any woman who wants to appear slimmer or create an hourglass!

If you instantly want to look taller and leaner avoid ankle straps and go for a nude court shoe or peep toe instead. Matching your shoes to your outfit colour can also really elongate the leg!

If you are busty, a round-neck or polo neck will NOT flatter your cleavage. It also gives the impression of one large expanse of boobage. A V-shaped neckline is far more flattering and will give the impression that your boobs sit a little higher and are in proportion with the rest of your body.

A big bold attention grabbing necklace or a sizable pair of earrings will distract any unwanted attention from other areas!  Use long necklaces to create a line, that tricks people into thinking you are longer and leaner.

Look out for dresses or tops that have darker panels down the side as they give the illusion that your figure is slimmer than it actually is. Likewise, avoid like the plague anything that has the reverse effect (i.e. lighter panels on the outside).

Wearing a different colour on your top and bottom half draws attention to your waist. Wear one hue to look long and lean!

Why not be bold and try red like Jennifer Lawrence? Matte red soaks up the light as it is a saturated colour – whilst any sort of sheeny satin like fabric does the opposite!