10 interior design rules to break
---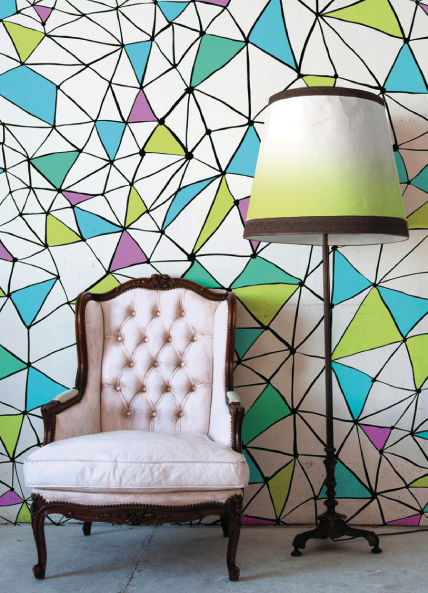 Paint small rooms white to make bigger
Some interior design rules seriously need de-bunking. Be a decor rebel with our inspiring list of 10 design rules to break.
This is a definite rule to break! Why not have a statement chair at either end of the table? It will make your home feel more individual and less like you've just picked it up from your average homeware chain. Or if that seems a step too far just opt for differing materials.

Wrong! Mix modern and older pieces to add depth to a room, it injects personality and stops it from looking as though you have bought everything from one shop! And by mixing eras it won't date so quickly.

Take your coffee table away and see how much the space opens up.
Why not try side tables or an ottoman instead? An ottoman will give you somewhere to store clutter and extra seating if you need it.

Carefully thought out clutter can actually become a feature in itself. A cluster of photographs in a variety of frame styles and sizes can make for a beautiful personal display. As can a collection of knick-knacks or pretty crockery. The trick to making a feature out of clutter, is to keep the surrounding area tidy so it doesn't end up becoming a guddle.

Sometimes it's better to make the best of what you've got, than try to pretend you're something you aren't! Embrace small proportions and use it as a chance to create a really dramatic space.

One of the easiest ways to bring an older piece up to date is to give it a make-over! Whether it is re-spraying a cabinet, or recovering a chair – do not be afraid to upgrade!

Au contraire! Opposing prints can work beautifully in the same room! If you are
nervous of clashing patterns and prints, and would rather play it safe, select colours that are from a similar colour scheme. It's a fun way to inject a bit of personality into a room.

For the parent who suspects their child is a genius, this is an essential rule to break! Rather than hanging unimaginative, bland, mass produced prints why not decorate your walls with something altogether more personal? Whether it's a painting from nursery or even a baby hand-print, by popping it in a beautiful frame it will look like a piece of artwork!

Nonsense! It's more important to create as much floorspace and keep clutter to a minimum. If you get a higher bed with a tall headboard it will actually trick the eye into thinking the room is larger than it is.

An all-white room is both beautiful and serene. Plus if you do fancy a change you can make the space look completely different simply by adding accessories in a vibrant colour palette. To stop the room looking clinical, incorporate contrasting materials and textures, such as lace bedding or woollen cushions.